Classical Guitarist Matthew McAllister will be in Whitehorse as the guitar adjudicator during Rotary Music Festival which  begins this week. McAllister will be available to teach private guitar sessions during his visit.  Please contact Danette Readman for more information or to book a lesson.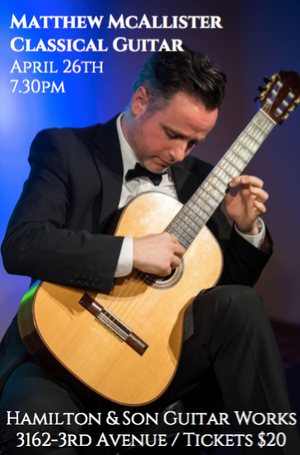 Scottish musician Matthew McAllister is widely regarded as one of the most exciting and talented Classical Guitarists in Europe. Matthew has been delighting audiences worldwide with his exquisite performances and effortless presentation for over a decade.  
He will be performing at Hamilton & Son Guitar Works on April 26 at 7:30p.m. 
Matthew McAllister website http://www.matthewmcallister.com 
 For more information on the Rotary Music Festival 2017 please visit the website. http://www.rmfestival.ca